Blue Beret Memorial Page
"The Mission Comes First"

Lt Col Phillip H. Aye, Jr.
July 18, 1968- October 8, 2009

After a courageous battle with pneumonia and acute respiratory distress syndrome (ARDS), Phillip passed away at St. Anthony's Medical Center in St. Louis, Missouri on 8 October 2009. Phillip was born in Pensacola, FL but spent most of his childhood in Allen, KS and Emporia, KS. He graduated from Emporia High School in 1986.

Phillip joined the US Army and departed for basic training shortly after graduation. After basic training he attended jump school at Fort Benning, GA and was assigned to teh 82nd Airborne Division at Fort Bragg. Phillip also graduated from the Escuela de Paracaidismo de Honduras. Phillip served as a scout/sniper in the 2/504 PIR until a double parachute malfunction on 27 October 1989 separated him from his beloved Army. Phillip recuperated and attended college, earning an Associate of Arts from Allen Community College in May 1998 and Graduating from Emporia State University in December of 1998 with a Bachelor of Arts in History with honors and a Bachelor of Science in Education with honors. Phillip worked for USD 420 in Osage City, KS as a substitute teacher and junior high football coach for a short time. He also taught as an adjunct instructor for Allen Community College for a few semesters. Phillip married Regena Bailey on December 3, 2000 in Osage City, KS.

Phillip loved music, shooting sports, muscle cars, and grilling. Phillip had a zest for life and sense of humor that was admired by many and will be greatly missed. He loved to drink coffee and shoot pool with his best friends Robert Stockton and Jeff Rensing. Dedicated to helping others, Phillip touched the lives of more than fifty teen boys through his service as a foster parent and countless others nationwide as a Civil Air Patrol Officer. A patriot to the core, the mission always came first with Phillip and he always found time and energy for an ELT mission, a blood run, to help a cadet attend and activity, or to teach marksmanship. In CAP, Maj Aye earned many honors including outstanding Tactical Officer at the 2005 Nebraska Wing Encampment, 2003 Kansas Wing Aerospace Officer of the Year, three Commanders Commendations, the Search and Rescue Ribbon, the Disaster Relief Ribbon, the Find Ribbon, and the Exceptional Service Award. Major Aye earned the Gill Robb Wilson Award, CAP's highest award for Senior Member Professional Development, in 2009. Major Aye served as the Homeland Security Officer for Kansas Wing and Commander of the 77th Composite Squadron. Major Aye attended more than ten encampments, NBB seven times, National Staff College, and Hawk Mountain Ranger School. Phillip was a member of the Disabled American Veterans, the National Rifle Association, and the Patriot Guard.

Maj Aye concluded his duties at NBB 2009 and departed for home. On the way he and another Senior Member stopped in St. Louis to pick up some equipment that they had obtained for the 77th Composite Squadron. At that time, he was hospitalized with the pneumonia and ARDS. Maj Aye never made it home from NBB.

Prior to his passing, paperwork had been submitted for his promotion to Lt Col, as he had completed all requirements to obtain the grade. It was not however, until after his passing that this honor was bestowed upon him. Blue Berets were well represented at the funeral. Although not many Berets from out of state were able to attend, we knew that they were there in spirit, as we are when we lose any Beret brother or sister.

Lt Col Aye was a leader, a mentor, and most of all a friend. He will be greatly missed! We will never be able to fill the shoes that he left. But if you knew Phillip, you know he would tell us to "Drive On, the Mission Comes First!" He never turned down a mission.

This Beret was lain to rest with full military honors.

"These things HE did, so others may live!"

Sincerely


Derek Montgomery, Capt, CAP

Deputy Commander for Cadets (KS077)
MICT/ Paramedic

C/Maj Jacob Edward Rueth

killed 2 December 2006

Jacob Edward Rueth, age 18, loving son of Catherine, nee Kobbeman, and William Rueth III; dearest brother of Sarah Rueth; devoted grandson of Janice and William Rueth Jr., Beverly and Edward Kobbeman; dear nephew, cousin and friend of many. Visitation Tuesday, 3 to 9 p.m. at Lawn Funeral Home, 7732 W. 159th St., Orland Park. Funeral Mass Wednesday, 10 a.m. at St. Elizabeth Seton Church, 9300 W. 167th St., Orland Hills. Jacob was an active member of the Civil Air Patrol and R.O.T.C., freshman at University of North Dakota and 2006 graduate of Carl Sandburg High School. Funeral info: 708-429-3200


I wished to inform you if you have not found out yet that a Blue Beret, C/Maj Jacob Edward Rueth was killed December 2, 2006 when the Cessna he was flying crashed into a snowy MN field.

He was a multiple year graduate from Blue Beret from at least 05 06 and I believe that he also attended in 03 and 04. Both him and I commanded Golf Flight in 2006, him as Flt Cmdr and me as Flt Leader. If you could please update the site with the news of his passing. He will be missed by all his comrades dearly.

Here is a copy of the email I sent out to my flight. In addition I do believe that many of his brothers in arms are wanting to perform some kind of ceremony. Beret burning or something of that nature. I'm working on some kind of plaque or something that has the names of the fallen on it.


Golf Flight
I know that this time has been very hard on all of us as Jake was so much to all of us. I was privileged enough to attend the viewing as well as the funeral. As one of the berets who was also there said "Rueth is flying VFR 24/7 out of heaven". I'm sure he is now and also that he is in a much better place. I think I speak for everyone in the flight when I say that Jake was more than just a friend to all of us. As the Commander of our flight he was a mentor (especially to me), A friend who could always be counted on, and as a brother. He will be missed by all of us greatly.

To Alec, Thank you for also attending the funeral, it was good to see another Golf member there, as well as to all those who sent him letters of condolence. Rueth's family cherished reading all of the letters as well as looking at all of the pictures of the good times we had.

I would also like to extend an invitation to anyone who would like to talk to me about the funeral, the crash, or even just the good and bad times we all had. I may have not been a model cadet but I consider you all My berets' and as such you are all welcome to call me, email, or message me any time you need or want to.

Semper Gumby

Ayrton J. Ingle
Cadet Commander
North MS Composite Squadron
Civil Air Patrol
United States Air Force Auxiliary
Dennis has been a blue beret for more than 25 years & was the commander at blue beret for the majority of that time, He was the CAP-EAA Liaison Officer for the last several years.
Col. Dennis Kumm put allot of hours into blue beret before, during , & after the activity.
Col. Kumm is a former Nebraska Wing Commander & the North Central Region (NCR) Commander.
Left to Right - 1Lt Luscious Meeler (OHWG), Cadet Jim Tresouthick (IL Wing), Cadet 1Lt Paul Syverson (IL Wing)
Cadet 1Lt Paul Syverson (IL Wing) - Standing Second from the Left
Paul Syverson is a Blue Beret from the 1980's
Jim Tresouthick sent me this information.
Please keep Paul and his Family in your hearts and prayers.
16 June 2004 - Maj Paul R. Syverson III was one of several killed in a rocket attack at Camp Anaconda. Paul was a Major with the 5th Special Forces group, had been wounded in Afghanistan, received a Bronze Star from that theatre.
This was his legacy.
FORT CAMPBELL -- Maj. Paul R. Syverson III was scheduled to report to Fort Leavenworth, Kansas, this week to attend school for newly promoted Army majors.

Instead, the 32-year-old "Green Beret" assigned to the 5th Special Forces Group (Airborne) at Fort Campbell volunteered two weeks ago for a forth tour of duty in Iraq. However, Syverson was killed a week ago today while standing outside the PX at a U.S. base in Balad, north of Baghdad. He had stopped to purchase equipment when a rocket exploded on Camp Anaconda, killing him and two other U.S. soldiers.

"He died not part of a planned military activity," Lt. Col Christopher Haas said outside the Memorial Chapel here, where a memorial service was held Tuesday for Syverson. "He was just standing there when the rocket came in. That's the nature of Iraq in a combat zone."

Syverson, who joined the 5th Group in 1999, will be buried in Arlington National Cemetery, according to public affairs specialists for the 5th Group. He is the 62nd soldier from Fort Campbell to die in Operation Iraqi Freedom.

During the memorial ceremony, 5th Group commander Col Hector Pagan described Syverson as "a top notch officer" and "a young man who was really squared away."

"When a mission needed to be accomplished, Paul was the first to volunteer," Pagan said. "I looked at Paul and wished I had been as good a captain and major as he was."

Syverson's wife, Jackie, put her arm around the couple's son, Paul Jr., 7, and whispered to him as photographs of Syverson in uniform and with his family were shown.

"Jackie, he always talked about you, but I think it was because he still couldn't believe you married him," Maj Scott Brower said in his tribute to Syverson. "Little Paul, you were the shining light of his life."

In addition to his wife and son, Syverson is survived by his daughter, Amy, 2 months.

The song, "Amazing Grace," was played on bagpipes. In a customary last roll call, Syverson's name was called out three times to silence.

A decorated officer, Syverson and four other 5th Special Forces soldiers are known for retrieving the body of CIA agent Johnny "Mike" Spann, who was killed in an Afghanistan prison uprising in November 2001 at a fortress near the city of Mazar-e-Sharif. Spann was the first American killed in Afghanistan since the Sept. 11, 2001, terrorist attacks. The five men also captured John Walker Lindh, the American serving a 20-year prison sentence for assisting the Taliban.
This article doesn't do it justice. This is his list of achievements include:
3 Bronze Stars with 2 Oak Leaf Clusters
2 Purple Hearts with Oak Leaf Cluster
Meritorious Service Medal
Army Commendation Medal
Joint Service Achievement Medal
Army Achievement Medal
National Defense Service Medal
Armed Forces Expeditionary Medal
Kosovo Commendation Medal
Global War on Terrorism Expeditionary Medal
Global War on Terrorism Service Medal
NATO Medal
Combat Infantryman's Badge
Expert Infantryman's Badge
Pathfinder Badge
Senior Parachutist's Badge
Special Forces Tab
Father of two great kids, and husband to a loving wife.
"Camp Syverson" Dedication Ceremony Pictures
Beloved Blue Beret & Green Beret
May God Bless you
US Army Special Forces
www.arlingtoncemetery.net/prsyverson3.htm
Chris Heisig
My name is Deborah Heisig. My husband Chris attended Blue Beret in 1985. As I was looking for something on the internet tonight and I came across your website and thought that I would contact you. Chris tragically passed away on March 25th 1999.
Chris was from Toronto, Ontario Canada and attended CAP in Niagara Falls, NY. At the time of his death, Chris was a successful lawyer living here in Calgary, Alberta. Chris and I had been together almost 12 years and had two beautiful daughters (Hillary 4½ and Madeline 2).
I'm not sure what possessed me to contact you, but I know that he looked back on his cadet days with fondness. I was still hearing stories about his time in Wisconsin years later.
I don't know that you knew him (I know that that it is a big place) but I noticed that you both attended the same year so I thought that I would send this piece of information along.
Thank you for your time.
Sincerely, Deborah Heisig
Kenneth Alan Luse
Warrant Officer
B TRP, 1ST SQD, 9TH CAV RGT, 1 CAV DIV
Army of the United States
15 May 1950 - 29 November 1969
Cedar Rapids, Iowa
Panel 15W Line 006
http://www.virtualwall.org/dl/LuseKA01a.htm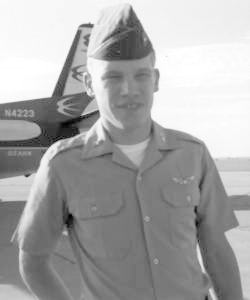 CAP PAYS FINAL TRIBUTE TO KEN LUSE

The spirit of the New Year did not lift the spirits of the Iowa wing as they paid final tribute to the former cadet commander of the Cedar Rapids squadron, Ken Luse.

Although a Warrant Officer in the Army, most CAP members remembered him as C/Capt Ken Luse, who, after being in Viet Nam for about two months, was killed in a helicopter crash on Nov. 29, 1969.

CAP came in mass to attend his funeral services on New Year's Eve day, and saluted his love of flying with a fly-over of the cemetery.

Throughout high school, Ken was a member of CAP, and took advantage of all opportunities to fly. He earned both a glider and private pilot license. Following graduation from Kennedy in 1968, he joined the Army's helicopter training program. He graduated first and third from the two helicopter training classes.

Shortly before leaving for Viet Nam in October, Ken visited a squadron meeting and related his experiences with the helicopters he had learned to fly and with the Army in general. He explained the hazards an problems incurred in flying them.

Warrant Officer Luse was the gunner on the lead helicopter which was clearing the way for others bringing in troops to an area when it was shot down by the Viet Cong.

While in CAP, Ken was one of the first group of Blue Berets, where he also demonstrated the leadership abilities he did in his own squadron.

CAP is establishing a memorial fund which will be used to enable a worthy cadet to attend the Solo flying encampment.

Mr. and Mrs. Edward Luse, his two brothers, and his grandparents survive. Services were held at St. Andrew Lutheran Church with interment at Cedar Memorial Cemetery.

IN REMEMBRANCE
Death Be Not Proud
by WO Val McCrum

It was ironic that we should end the old year - 1969 - with a funeral service for the former cadet commander of this squadron. Yet in one way, although sad, it said something to this writer.

It has been a custom that at the beginning of every year we make resolutions. Whether this is taken seriously or laughed off, it is done. And one couldn't help but think of our participation in the funeral services for Warrant Officer Kenneth Luse, U.S. Army. Therefore I do not think myself alone when I added to my list of resolutions to better my work and understanding of Civil Air Patrol.

Colonel Cass told me; "He was always a tiger. On a mission he was always ready to go. He added more to the Iowa Wing than words can ever describe. He was a man - a real man!"

Ken is now at rest. He died defending the country he loved.

Yet for me he still lives - he lives in a way that drives me to work harder for Civil Air Patrol. That is why I am writing this column in this manner. I would suggest that you do NOT let Ken Luse fade from your minds, but rather to aim for the goals he did. Again from the information I gathered he would probably say "Let's go - let's do something to make our squadron number one", and let me add number one like he was.

So this challenge is just about done - but with the help of God this is one resolution I intend to keep, and I ask you to join me.

I can't help but recall Colonel Cass' comment about Ken: "He was a man - A REAL MAN!" And so all that is left for me to add to that is "DEATH BE NOT PROUD."

Maj Lohr & SSgt Yaroch,

Gentlemen,

Doc Luse, my cousin, just contacted me with your request.

Two weeks ago I collected all of Ken's things from my mother's house. I am still sorting through all the items. Let me know what you are looking for, when you need the items, the main contact person, and address of main contact person.

I have also sent word to two gentlemen who knew Ken while in CAP to make them aware of the reunion. One has replied that he was not a Blue Beret, but knows of another gentleman who might have been. The second contact I have not heard from as of this writing.

The CAP newsletter I mention in my long letter will be one item I can send to you.

Thank you for remembering,

Glen Luse

brother of WO Kenneth A. Luse

This is Not an Official WebSite & does not reflect the views or opinions of the U.S. Air Force, Civil Air Patrol or the National Blue Beret Program.

LINKS OR REFERENCES TO INDIVIDUALS OR COMPANIES DOES NOT CONSTITUTE AN ENDORSEMENT OF ANY INFORMATION, PRODUCT OR SERVICE YOU MAY RECEIVE FROM SUCH SOURCES. PER CAPR 110-1.
---
If you have pictures, information, or graphics to add to this page, please e-mail them to me. Thanks, Lt Col Ted Lohr, Webmaster
e-mail:
B.B.A.T.W.
Please note:
I don't have any info or contact with Nat. HQ about applications

I DO NOT have any information about the current program

Please DO NOT ask me any questions about the current NBB program
Copyright firearsn © 1997-2013.
Last revised: 21 November 2012.
Warning-Any person and/or institution and/or Agent and/or Agency of any governmental, public or private structure including but not limited to the United States Federal Government also using or monitoring/using this website or any of its associated websites, you do NOT have my permission to utilize any of my profile information nor ...any of the content contained herein including, but not limited to my photos, and/or the comments made about my photos or any other "picture" art posted on my profile. You are hereby notified that you are strictly prohibited from disclosing, copying, distributing, disseminating, or taking any other action against me with regard to this profile and the contents herein. The foregoing prohibitions also apply to your employee(s), agent(s), student(s) or any personnel under your direction or control. The contents of this profile are private and legally privileged and confidential information, and the violation of my personal privacy is punishable by law. UCC 1-103 1-308 ALL RIGHTS RESERVED WITHOUT PREJUDICE