"The Blue Berets"



Photos Early 2000's
"The Mission Comes First"
NBB 2000
Communications/Operations Shack
NBB 2001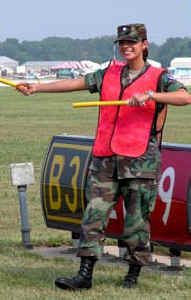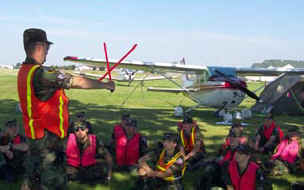 Flightline Training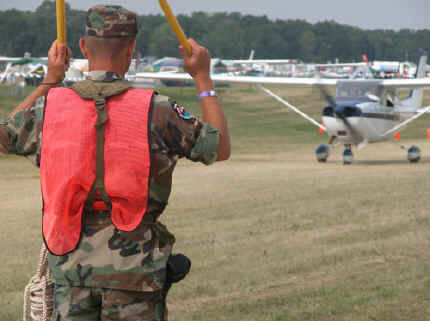 Working the Line
(L) CAP National Commander BGen James Bobick with Col D. Kumm NBB\EAA Liaison
(R) GBen William B. Cass (Founder of the Blue Berets)
Beret Base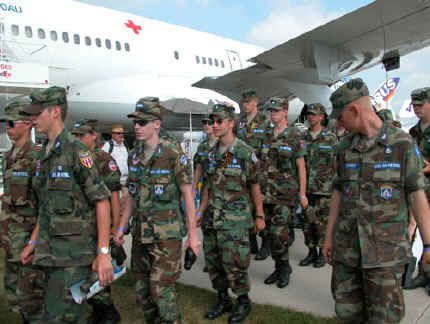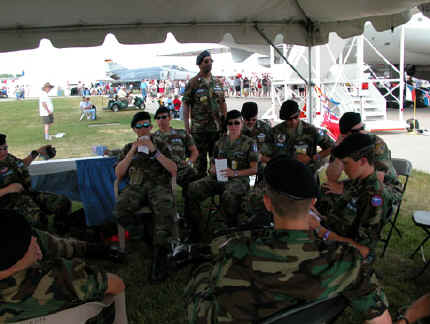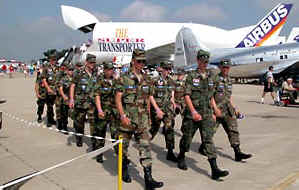 NBB 2002
This is Not an Official WebSite & does not reflect the views or opinions of the U.S. Air Force, Civil Air Patrol or the National Blue Beret Program.
LINKS OR REFERENCES TO INDIVIDUALS OR COMPANIES DOES NOT CONSTITUTE AN ENDORSEMENT OF ANY INFORMATION, PRODUCT OR SERVICE YOU MAY RECEIVE FROM SUCH SOURCES. PER CAPR 110-1.
---
If you have pictures, information, or graphics to add to this page, please e-mail them to me. Thanks, Lt Col Ted Lohr, Webmaster
e-mail:
B.B.A.T.W.
Please note:
I don't have any info or contact with Nat. HQ about applications

I DO NOT have any information about the current program

Please DO NOT ask me any questions about the current NBB program
Copyright firearsn © 1997-2013.
Last revised: 21 November 2012.
Warning-Any person and/or institution and/or Agent and/or Agency of any governmental, public or private structure including but not limited to the United States Federal Government also using or monitoring/using this website or any of its associated websites, you do NOT have my permission to utilize any of my profile information nor ...any of the content contained herein including, but not limited to my photos, and/or the comments made about my photos or any other "picture" art posted on my profile. You are hereby notified that you are strictly prohibited from disclosing, copying, distributing, disseminating, or taking any other action against me with regard to this profile and the contents herein. The foregoing prohibitions also apply to your employee(s), agent(s), student(s) or any personnel under your direction or control. The contents of this profile are private and legally privileged and confidential information, and the violation of my personal privacy is punishable by law. UCC 1-103 1-308 ALL RIGHTS RESERVED WITHOUT PREJUDICE